Gail & John's Spezzatino Stew
Pairing: Árdíri 2012 Napa Valley Pinot Noir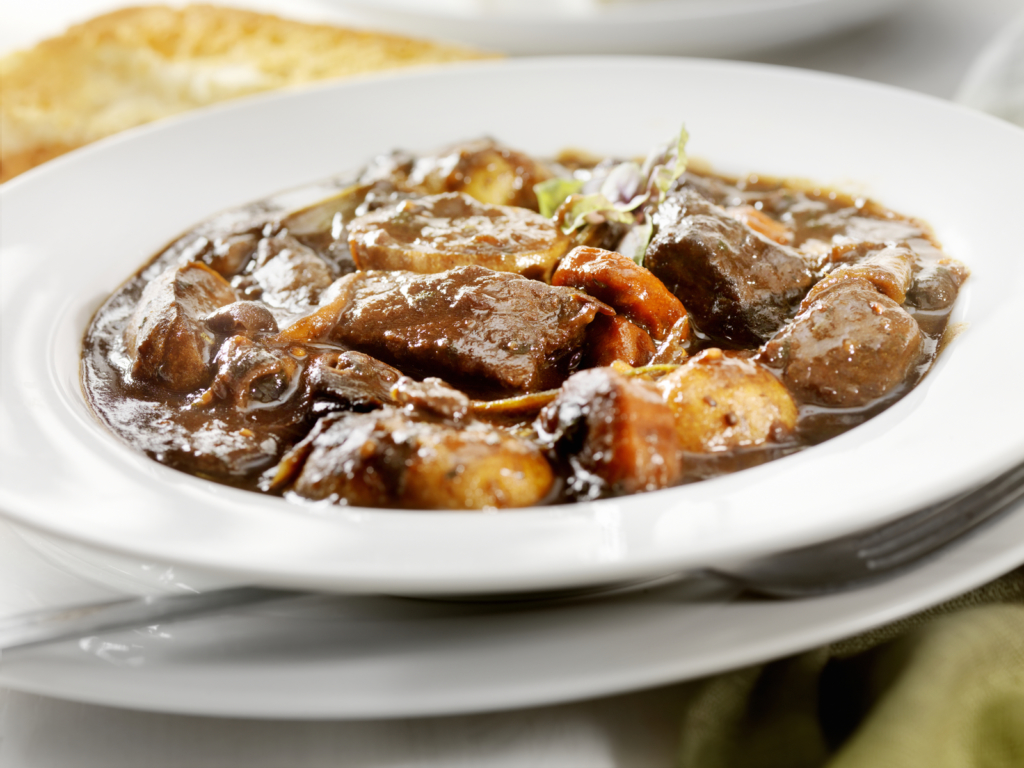 ---
Ingredients
2 lb. lean beef chuck shoulder cut into cubes for stewing
3 cups red wine
½ to 1 cup tomato puree
½ cup olive oil
1 large stalk celery finely chopped
1 large Idaho Russet potato, peeled, cut into bite size portions
1 carrot finely chopped
1 onion finely chopped
Salt and pepper to taste
Directions:   
In a large stewing pot, heat the olive oil, and sear the beef for a few minutes.  Season with salt and pepper.
Remove the beef from the pot onto paper towels with aluminum foil underneath to keep from dripping and to be able to discard later, and add the chopped carrots, celery, and onion.  Cook for 2 minutes, or until the vegetables have become soft.  Add 1 cup of red wine and let it reduce.
Place the seared beef back into the pot, and then add the tomato puree, and the remaining wine.  Let the liquid come to a boil, and then reduce the heat to medium-low.
After 45 minutes, add the potatoes to the pot, and season with salt and pepper.  Simmer until the meat is very tender and the liquid reduced, for an additional 45 minutes.  Add salt and pepper to taste…usually needs more salt.  Add a little water if the liquid cooks down too fast.
Serve with classic polenta or over rice.
Bon appetit!
Winemaker's Homemade Lasagna
Pairing: Árdíri 2012 Willamette Valley Pinot Noir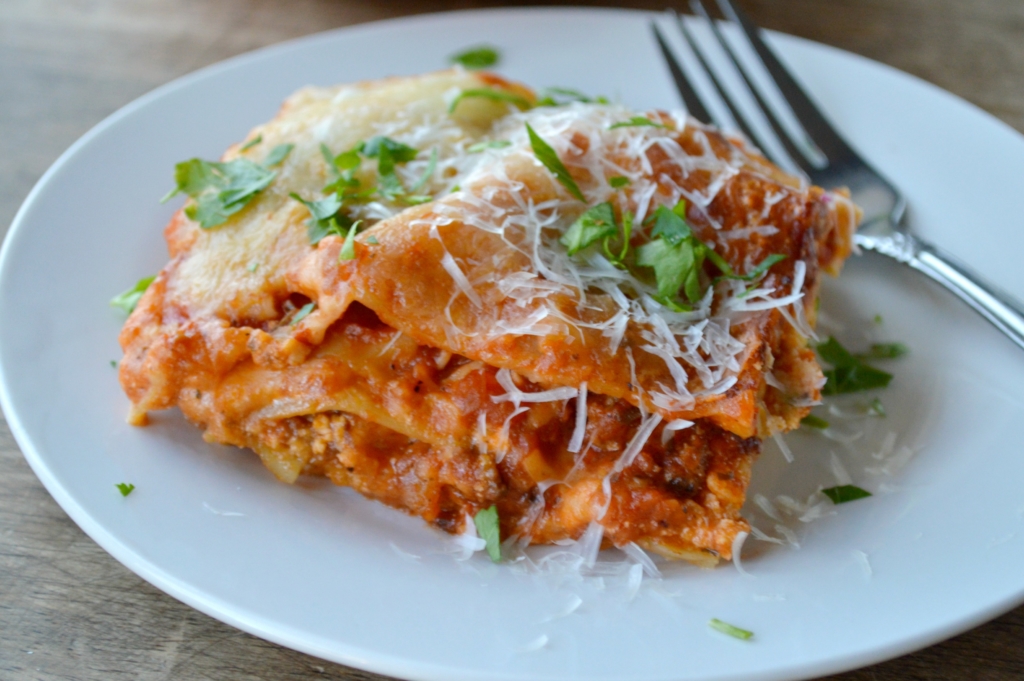 ---
Ingredients
1 pound Italian sausage
3/4 cup minced onion
2 cloves garlic, crushed
1 (28 oz) can crushed tomatoes
2 (6 oz) cans tomato paste
2 (6.5 oz) cans tomato sauce
3/4 cup wine
2/3 cup fresh basil
1/2 teaspoon fennel seeds
1 teaspoon Italian seasoning
1 tablespoon salt
1/4 teaspoon ground black pepper
4 tablespoons chopped Italian parsley
12 lasagna noodles
22 ounces ricotta cheese (stir in a pinch of nutmeg)
2 eggs
3/4 pound mozzarella cheese, sliced
3/4 cup grated Parmesan
Directions:   
Preheat oven to 375 degrees.
Cook sausage, onion and garlic over medium heat until well browned. Stir in crushed tomatoes, tomato paste, tomato sauce, and wine. Season with basil, fennel seeds, Italian seasoning, salt, pepper, and 2 tablespoons parsley.
Bring a large pot of lightly salted water to a boil. Cook lasagna noodles in boiling water for 8 to 10 minutes. Drain noodles and rinse with cold water.
In a mixing bowl, combine ricotta cheese with an egg, pinch of nutmeg, remaining parsley and 1/2 teaspoon salt.
To assemble, spread 1 1/2 cups of sauce in the bottom of a 9×13 inch baking dish. Arrange 5 noodles length wise over sauce. Spread with one half of the ricotta cheese mixture. Top with a third of the mozzarella, and sprinkle with 1/4 cup Parmesan. Repeat layers, and top with remaining mozzarella and Parmesan.
Cover with foil. To prevent sticking, spray foil with cooking spray.
Bake for 25 minutes. Remove foil and bake an additional 25 minutes. Cool for 15 minutes before serving. Garnish with fresh basil and Parmesan.
Pour a glass of wine, and enjoy!